Studio Belovely is organising crochet holidays to a quiet little island in Greece. Time to crochet, relax and discover this lovely island, hidden from the rest of the world.
Enjoy the delicious and pure food of the authentic Greek kitchen. The locals of this island are very friendly, the nature is beautiful. It is possible to bring a fellow-traveller who doesn't know/want to crochet. There will be enough time to do other activities beside the crochet workshops. This beautiful relaxing island is the perfect place to clear your head and to refuell.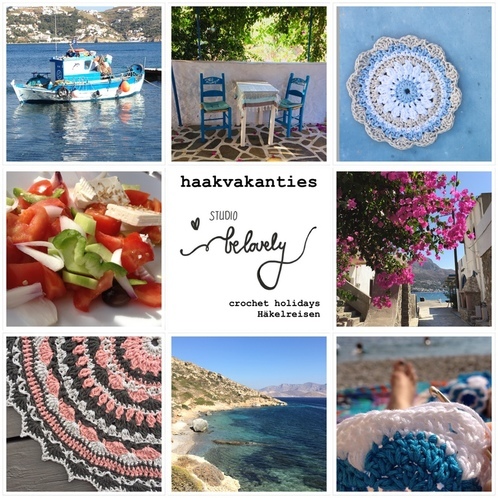 Where are we going?
We'll meet at the airport of Kos. We will not stay on this island, it's only our meeting-point. I will be waiting for you at the airport and take you to a taverna*. As soon as the group is complete we'll board the ferry for the trip to our destination.
When are we going?
September 13 - 18, 2020 / September 20 - 25, 2020 / September 27 - October 2, 2020 / May 23 - 28, 2021 / May 30 - June 4, 2021 / September 12 - 17, 2021 / September 19 - 24, 2021 / September 26 - October 1, 2021
- arrive/leave on another date is possible - please contact me for details -
groups of at least 6 persons can book a crochet holiday on a date which they choose.
For whom is this trip suitable?
For beginner and advanced crocheters. Even if you have never touched a crochet hook, you can join! I'm having eight years experience as a teacher of craft class for both kids and adults, left- and right-handed. With my help you will succeed in learing how to crochet in no-time. It is possible to bring a fellow-traveler (who doesn't want to crochet). There a lots of other activities, such as sport fishing, snorkeling, climing, swimming, or pay a visit to Kalymnos, a bigger island which is only 15 minutes away by boat. Maximum number of participants is 10 (included non-crochters).
Program
We will have a lot of time to crochet and attend craftclass (workshops). You can make a choice of three patterns, which are especially made for this trip. Feel free to bring your own crochet projects from home. In craftclass you'll have the opportunity to get help with the crochet pattern and you can learn how to read crochet diagrams. On this island there are beautiful crochet sports both in the sun and shadow.
Others activities are included in the program, such as walks on the island, workshop Greek herbs, boattrip around the island, listen to a local who tells stories about the island, crochet picnic at sunset. These activities are included in the price.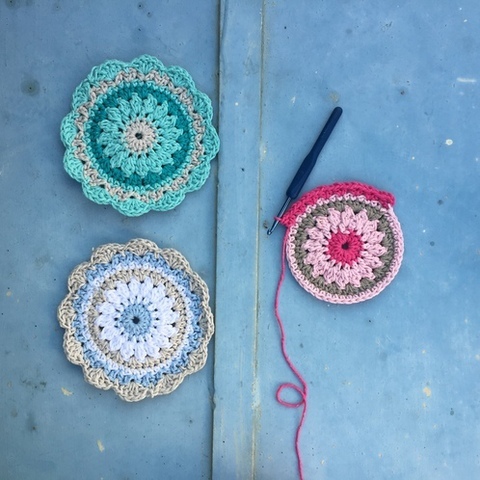 Inclusive
Five nights in a 2-p studio/room with toilet and shower. Towels, watercooker, fridge on the room. Table and seats outside.
5 x breakfast, 4 x diner, 2 x lunch, welcome drinks and snacks
1 x airport transfer from Kos to Mastichari, ferry to Kalymnos, taxi from ferry, boattrip to our holiday island
crochet kit with materials and pattern
crochet workshop/craft class every day according to program
all other activities as mentioned in program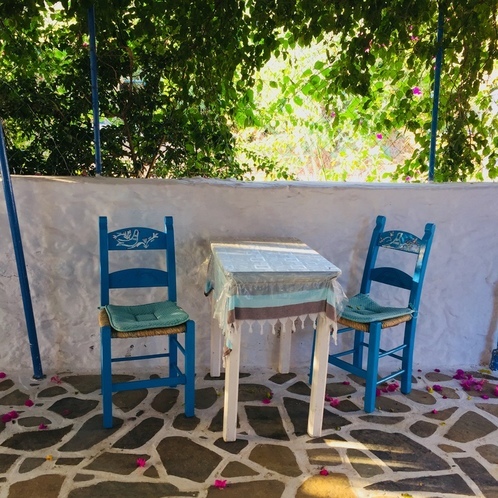 Exclusive
Flight to/from Kos.
Tip: many airlines offer good rates for Kos. If you want to overnight at Kos my contactperson cann book you a room (appr. € 35 per room per night - 2 person room).
Price
€ 495 p/p in a 2-p studio/room (you'll pay extra for the use of 1 person)
*in the case you arrive earlier on Kos, please come to the meeting-point taverna.